We have made an amendment (approved by the licensing officer) – as men are now allowed to do 800m Freestyle & girls 1500m freestyle, we have changed our meet pack in order for us to offer this opportunity to our swimmers.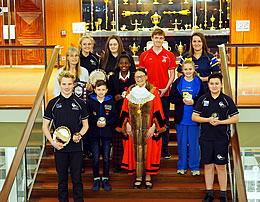 | | |
| --- | --- |
| Annual presentation evening | |
---
(2017)
| | |
| --- | --- |
| Championships 30 Sep/1 Oct | |
| | |
All results

Records

Meet Mobile

You can follow the gala using Meet Mobile. Install the 'app' then search for City Of Plymouth Gala.
Breakwater swim
Sun 28th July 2018
Plymouth primary school gala
Thursday 14th June 2018
City Of Plymouth Gala
When: Oct 6th, 7th adn 14th 2018
Where: Plymouth Life Centre

Water Polo
When: Nov 2018 (to be announced)
Where: HMS Raleigh.
Start time: 1100 (tbc)
Hitek File for 2018 gala

C.O.P. L3 Meet pack (2018)

Constitution
C.O.P. A.S.A. Rules

Find an event (Nationally)

Downloads & links

Committee
Welcome to the City Of Plymouth A.S.A website
The City of Plymouth ASA puts on a swimming gala over several days in October at the splendid Life Centre in Plymouth.
We aim to be a friendly and professional Gala where we are delighted to give younger swimmers their first experience in a big competition pool whilst retaining that personal atmosphere.
---

Hats and bottles can be purchased at the Gala
---
Open Water Race July 29th 2018 - results

1. Darren Green 46.55.86 (1st Man) - Devonport Royal
2. Marisa Shubert 47.51.02 (1st Lady) - Devonport Royal
3. Edward Gilbertson 49.04.68 (2nd Man) - Carradon
4. Elizabeth Vernon (2nd Lady) - Mount Kelly
5. Neil Brinkworth (3rd Man) - Devonport Royal
6. Pete Redbourne - RNRM
7. Anthony Antliff - Devonport Royal
Galery has been updated - click here
---

The City of Plymouth ASA Lords Mayors Awards took place on Wednesday 29th November 2017 at 4pm - Congratulations to all the winners.
Presentations by the Lord Mayor of Plymouth Councillor Wendy Foster and Paul Russell (C.O.P Chairman) - see the full gallery - click here

Age Group Achievement Awards
Girls

Boys

Junior

Holly Tremayne (PL)

Alexander Grenardo (PL)

Intermediate

Shamiso Matonhodze (MK)

Arjun Shrestha (CSC)

Youth

Lily McGowan (CSC)
Sarah Teague (TSC)

Jackson Spry (CSC)

Senior

Laura Shaw PL

Joseph Brady (DRSA)

Top Boy and Girl
Girls

Boys

Lily McGowan (CSC)
Sarah Teague (TSC)

Jackson Spry (CSC)
Leaze sheild awarded to Esther Rookes (Tavistosk)
---
Plymouth Open Water race - 9th Sep 2017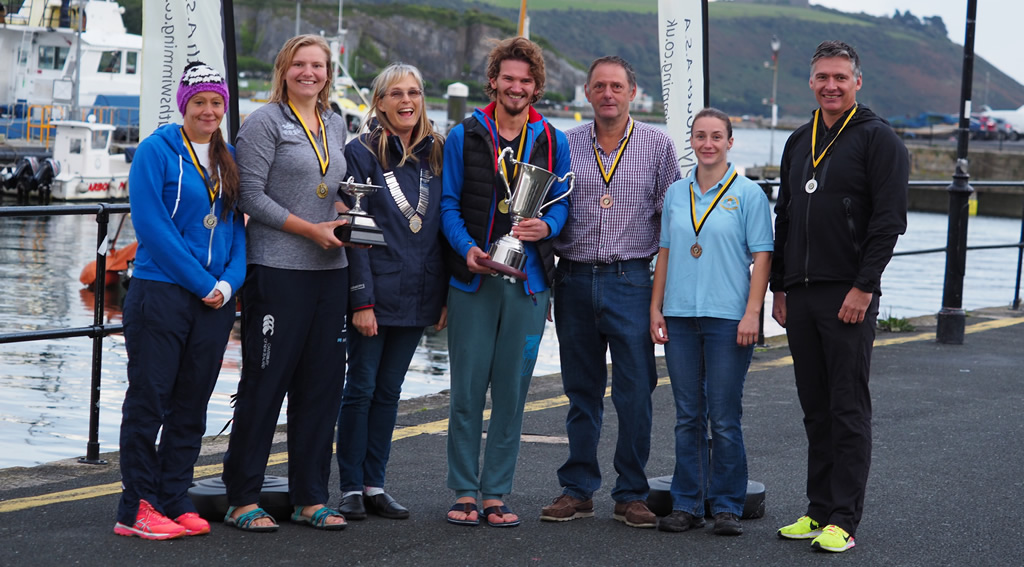 1. Robert Yardley - Dinnaton Swimming Club - 45.12.95
2. Marisa Schubert - Devonport Royal Swimming Association - 48.06.83
3. Elizabeth Vernon - Mount Kelly Swimming Club - 49.35.33
4. Caitlin O Malley - Plymouth RNRM Swimming Club - 55.14.25
5. Scott Lamont - Plymouth RNRM Swimming Club - 1.00.54
6. Anthony Antliff - Devonport Royal Swimming Association - 1.10.56
See the full report and gallery on the Open Water page.
posted 10 Sep 17
---
Plymouth Primary School Gala - 23rd Jun 17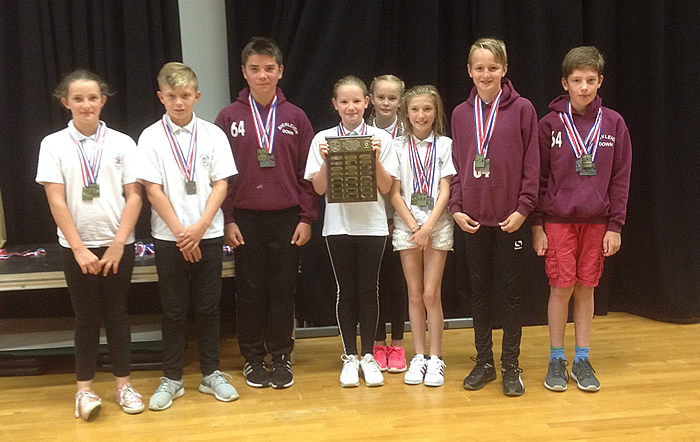 Third year in a row!
Congratulations to the swimmers from Bickleigh Down School who cruised to victory in this years Primary Schools Gala at the Life Centre on Friday 23rd June. The team of four girls and four boys fought off stiff competition from eight other schools. Compton and Boringdon Schools came worthy second and third places. This is the third year the event has run and is a collaborative effort between Plymouth Leander Swimming Association, City of Plymouth Swimming Association, Plymouth Schools Sports Partnership, whose Sports Leaders carry out the officiating and marshalling duties and Everyone Active.
The eight clubs which comprise the City of Plymouth ASA are delighted to support swimming at every level in the city. For more information about them, please visit www.plymouthswimming.co.uk
Photo courtesy of Sally Davies C.O.P. Press Officer
posted 2 Jul 17
---
Lord Mayors Parlour - presentation evening 21 Feb 2017
Well done to all those who attended the presentation evening hosted by the Lord Major of Plymouth (Cllr Pauline Murphy) and chaired by Estha Rookes (City Of Plymouth ASA chairman 2016-2017). Please see the presentation page for the picture gallery.
posted 22 Feb 2017
---
Third time in a row for Rebecca
Plymouth Leander's Rebecca Gribble took the Ladies 100m freestyle Championship for the third year running at the recent City of Plymouth ASA Championships held over three days at the Life Centre. She was also victorious in the backstroke event. Jessica Manning from a resurgent Devonport Royal Swimming Association also took two championships, the swimmers there obviously inspired by their young coach Iain Chalmers. The Mens championship honours were fairly evenly divided with three going to Plymouth Leander and two to Tavistock. Plymouth Leander fielded two very strong relay teams and the Ladies and Mens races were theirs for the taking.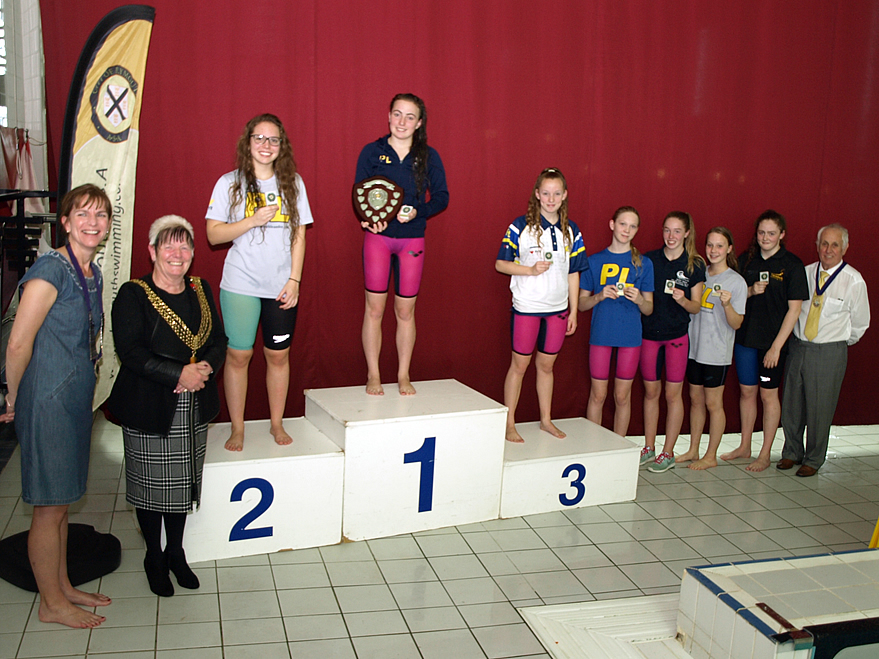 The photo is of Rebecca Gribble having received her award from the Lord Mayor of Plymouth Councillor Pauline Murphy accompanied by Councillor Brian Vincent and the City of Plymouth Chair, Mrs Sarah Millington.
The Lord Mayor and her party stayed at the event most of the day, watching the racing, presenting awards, taking tea in the control room and lunching with the officials.
by Sally Davies 5 Nov 16
---
The Lord Mayor of Plymouth Councillor Pauline Murphy accomanied by Councillor Brian Vincent paid a visit to our Championships in October 2016. He was greeted by Mrs Sarah Millington, Chairman of the City Of Plymouth ASA 2015-2016.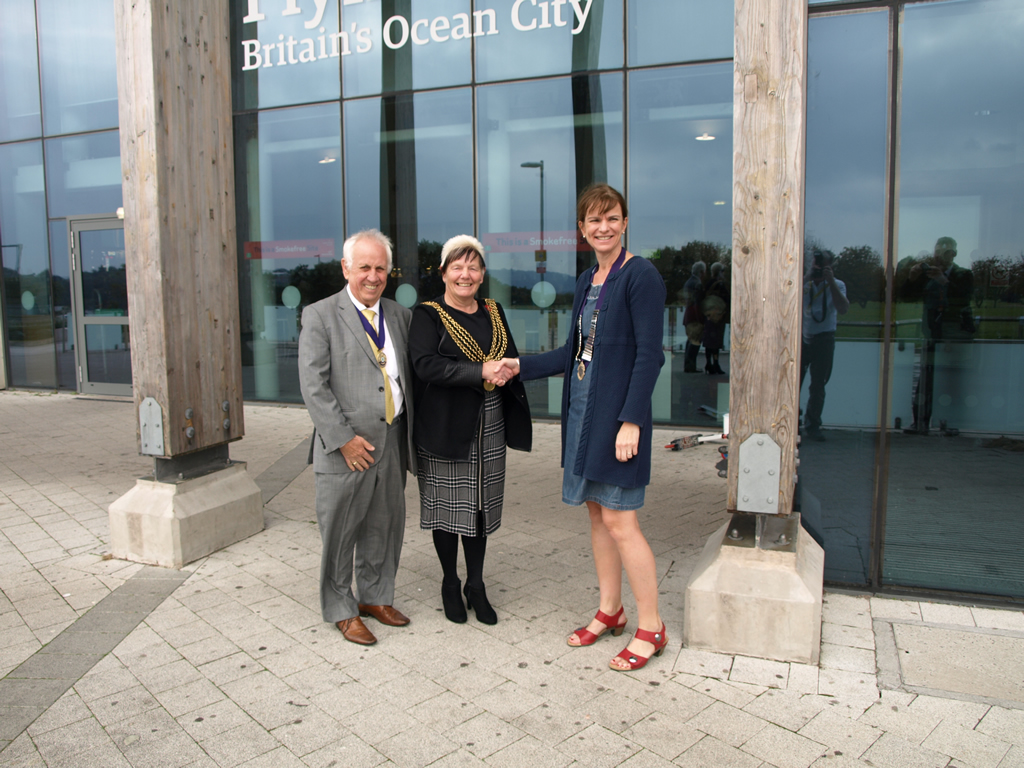 ---
Annual Breakwater Swim
On a sunny Saturday afternoon in July the swimmers pictured above completed the Annual City of Plymouth Swimming Association Breakwater race.

The brave bunch were taken out to the Breakwater in a boat and with a canoeist assigned to each of them for safety, swam back to shore. The distance is over 2 miles.

Pictured left to right are; Scott Lamont (2nd Gent) Harriet Tuck (1st Lady) Mrs Sarah Millington (City of Plymouth Chairman) Robert Yardley (1st Gent) Anthony Antliff (3rd Gent) Elizabeth Vernon (2nd Lady)

A huge amount of organization goes on behind the scenes to prepare for a safe and enjoyable event and the City of Plymouth ASA are grateful to everyone who helped especially their new Open Water Secretary Mr Diego Walker.  
Posted by Sally Davies (press officer) - 9 Aug 16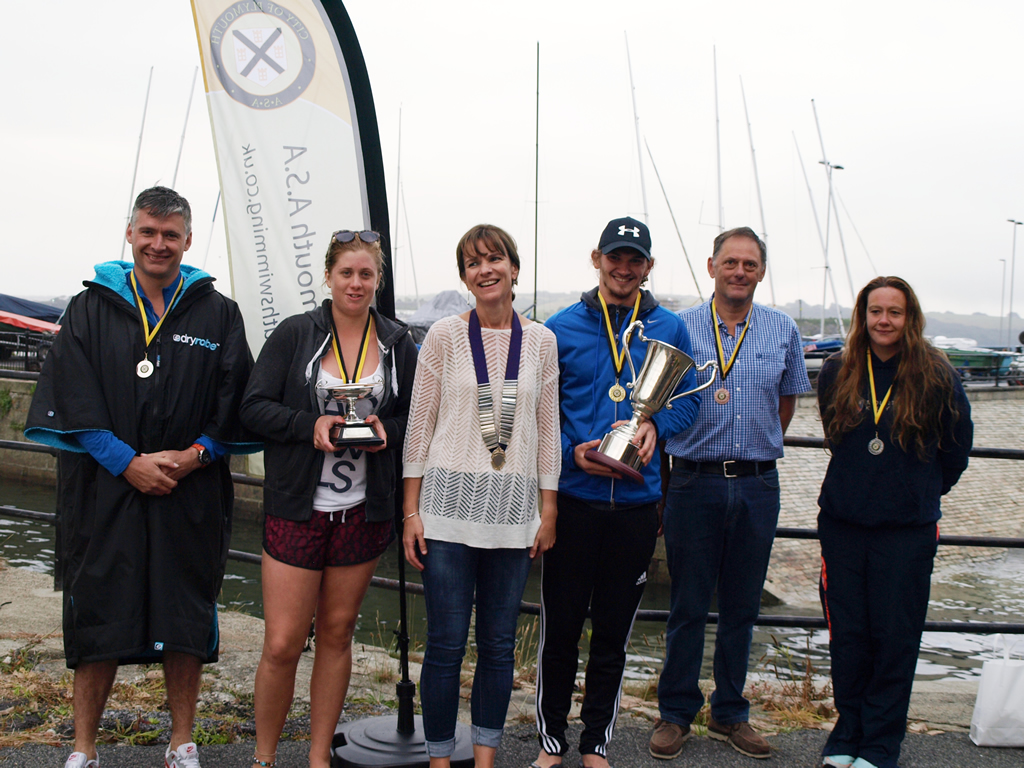 News History - click to expand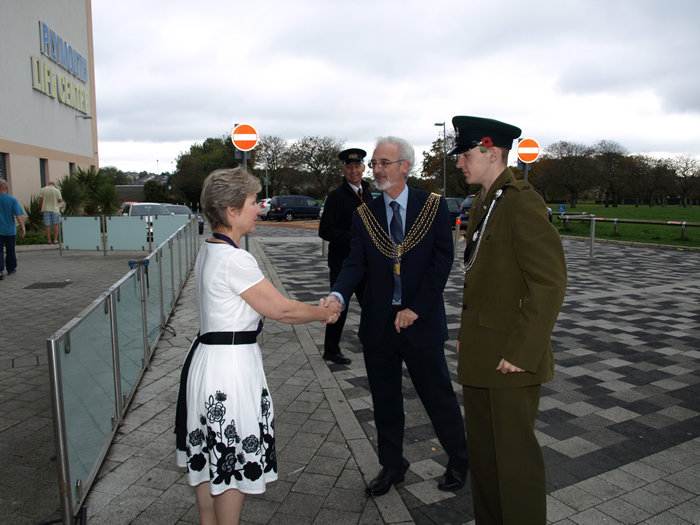 The Lord Mayor of Plymouth Councillor Dr John Mahony accomanied by his Cadet, Staff Sergeant Ben Menhennett paid a visit to our Championships in October 2015. He was greeted by Mrs Sally Davies, Chairman of the City Of Plymouth ASA 2014-2015.
---
The City Of Plymouth ASA welcomes Caradon Swimming Club
It had been good to welcome Caradon Swimming Club into the Cities family of Clubs. We look forward to saying hello to their swimmers, parents and officials at the Championships at the Life Centre in October.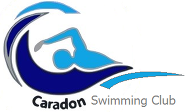 Caradon Swimming club was formed in 1973, it is located at Lux Park and Saltash Leisure Centres, with some pool time at the Plymouth Life Centre. The Club's present membership is in the region of 100, with age groups ranging from 7 to 65. The Club is Swim 21 accredited and employs a fulltime Professional Coach supported by volunteer assistant ASA qualified coaches. Please see the Club's official web page for further information.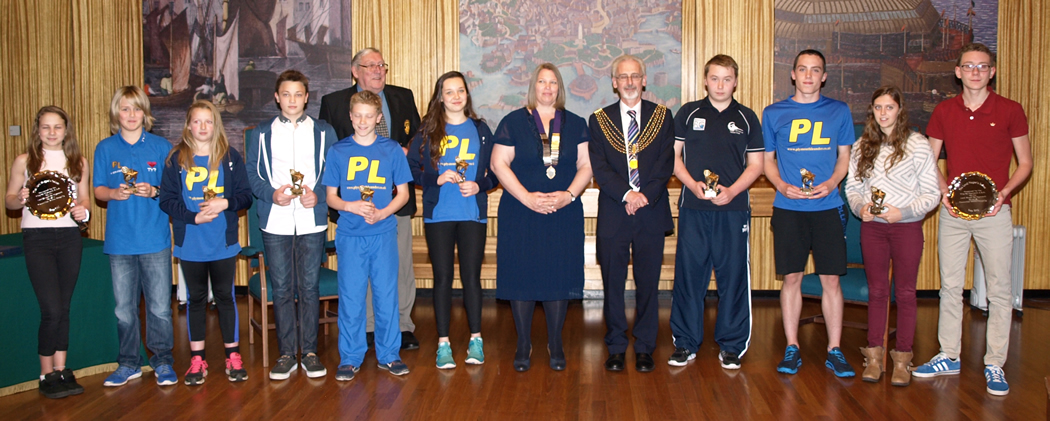 Annual Presentation evening at the Plymouth Civic Centre on 16 Nov 2015. Hosted by the Lord Mayor of Plymouth - Councillor Dr John Mahony.
---
Primary pupils take to the pool for swimming contest - 11 June 2015
Sporty young Plymouth swimmers took part in a special gala. The Life Centre played host to the inaugural Plymouth School Sports Partnership (PSSP) swimming gala for primary school children from across the city. Ten teams, from nine schools, took part with children aged between 8 and 10 taking part in 15 races. The competition included the 50m freestyle and an eight by 25m cannon relay. A spokesman for the PSSP said it was hoped to build on this first event – which was assisted by Plymouth Leander Swimming Association and Everyone Active – with the aim of making it a regular fixture in the school calendar. Trophies were handed out to winning schools by Sally Davies, the chair of the City of Plymouth Amateur Swimming Association.

A huge thank you to Max Trebilcock from Plymouth Leander for identifying this opportunity for our involvement in encouraging young competitive swimming in the City. It was a terrific atmosphere round the pool and great to see lots of older children timekeeping the lanes and encouraging the young ones. Definitely something we at the Cities should continue to be involved with, the Championship Plaque that we donated was well received and it will be a good thing for successive Chairs to attend and present it.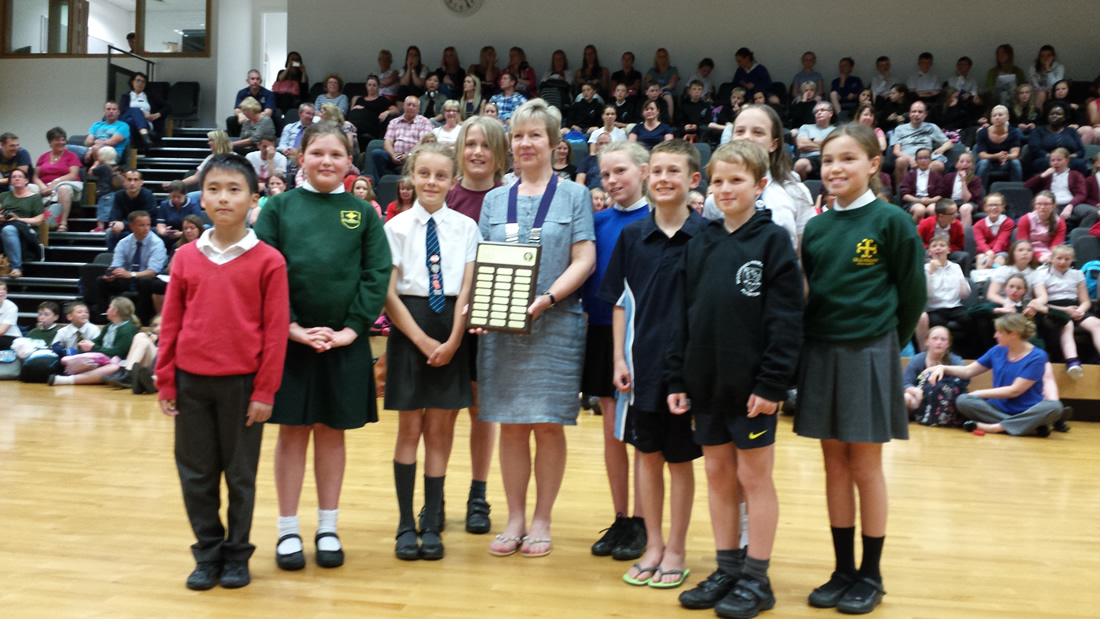 ---